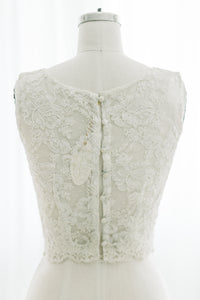 This item is available for Rent or for Purchase
A bridal lace sleeveless top for bridal boudoir or pair with a skirt. Lace button up on back of top. This is a sample top and used for photo shoots. In good condition. . Monique is available for sale or for rent. Purchase  $65.
Size: small

Material: lace
Color: white

Comments: This item is available for rental or purchase
All rentals items listed here are available for local Oahu rental delivery or pick up only. Please inquire for more information.
We are available for hire for styling & flowering for editorial shoots, workshops and wedding design. Please inquire here for more information.