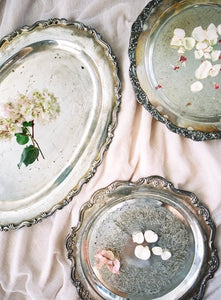 I have a large variety of silver and silver plated trays available for styling props and wedding decor. $15. up rental fee. Please inquire.


Size: 10 inch - 24 inch trays
Material: silver plated
Comments: this is a rental item only.
All rentals items listed here are available for local Oahu rental delivery or pick up only. Please inquire for more information. 
We are available for hire for styling & flowering for editorial shoots, workshops and wedding design. Please inquire here for more information.