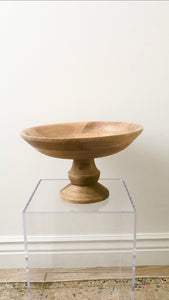 Beautiful rich textured wooden compotes are available for rental. This is a large pedestal footed compote container  for larger statement floral designs. I have 6 pieces available for rental.  A deposit & our signed rental contract is required on all rentals. 
Size:  14" w x 8 " h.                                                    Material: wood
Comments: these are only available for local pick up or delivery on Oahu.
All rentals items listed here are available for local Oahu rental delivery or pick up only. Please inquire for more information.
We are available for hire for styling & flowering for editorial shoots, workshops and wedding design. Please inquire here for more information.